The Four Key Pillars of Fire Safety for Peace of Mind – Social Housing
Housing associations face many challenges ensuring fire safety compliance is relevant and current. That is why it's always important to follow this four-pillar model when approaching your fire safety strategy.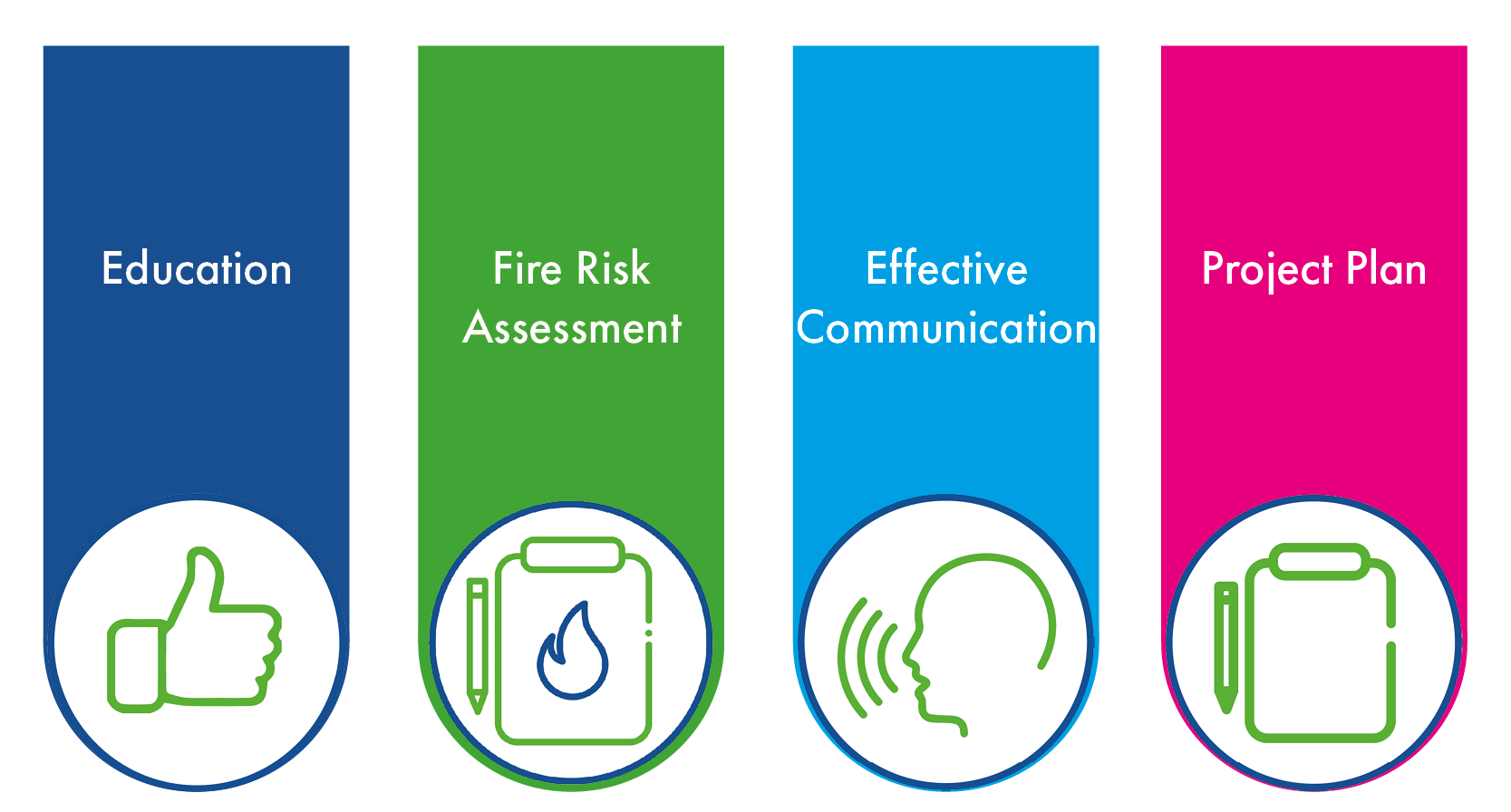 Education
One of the biggest mistakes we see repeatedly is a lack of knowledge within the industry across multiple stakeholders, such as building owners or installers. 
Have the installers considered if the solutions or products being used are fit for purpose? Is the application correct? There are numerous instances where the work undertaken has been completed by someone not qualified; if you do not rectify this, it can have devastating effects. 
The current trend of 'cheaper & faster' construction, coupled with a lack of understanding/awareness around fire safety, has resulted in the development of many buildings and fit-outs that don't fully comply with current fire safety standards. This creates a risk to life and exposure for those responsible.
A recent example occurred when a set of Sprinklers was called into action when a heater next to a resident's bed caught fire. Fortunately, the resident was not severely harmed and recovered in the hospital, suffering minimal smoke-related issues and minimal damage to the property.
The root cause of this particular example is a lack of knowledge on the residents' part around an issue that would not necessarily have been picked up through a fire risk assessment but, with the proper knowledge, could have been avoided.
Fire Risk Assessments
Regular fire risk assessments are crucial to ensuring your building is as safe as possible, and it is one of those things that can fall towards the bottom of the "to-do" list. Without a fire risk assessment, you won't be able to protect your premises properly, as you won't be aware of all the hazards and dangers in place.
The frequency of assessment should be annual at the very minimum; alternatively, whenever there is a significant change to the building or the residents living there. For example, you should conduct a new fire risk assessment if a resident develops severely restricted mobility. It is vital to keep a track record of all risk assessments that have been completed and make them easily accessible and available.
You would also need to review your fire risk assessment if any of the following are applicable:
 If there are new activities that are being undertaken at the premises.

If there have been any changes to the occupancy limit.

If personnel levels have changed.

If there are significant alterations to the layout of the building 
What will your fire risk assessment entail?
A risk assessment will identify all fire hazards and risks and highlight any specific groups of people at risk – for example, things such as duty of care for those individuals who are less mobile. 
It will outline how to mitigate these risks and any remedial works required and provide guidance on any training requirements. It will also review the fire risk assessment schedule, whether that is to be completed annually or when changes occur.
Effective Communication
It is crucial to educate and inform your residents on how to keep themselves safe. Communicating to the residents clear and straightforward guidance on checking that their smoke alarms are working, the importance of not damaging fire safety equipment in communal areas, and the risks associated with wedging open fire doors are all practical examples.
Some fire protection companies, such as Harmony, offer a dedicated resident liaison team to help facilitate communication and engagement. You can put simple measures in place, such as leaflets through doors, notices in communal areas, and holding an open night with your fire safety specialist or supplier for demonstration. With the digital world, we live in now, sharing video demonstrations can also be an effective tool.
You can get the residents/tenants more involved and engaged in several ways.
 Giving plenty of notice prior to starting the work, such as notices distributed around the buildings, leaflet drops, setting up drop-in sessions or even going that one step further and calling in on each resident to explain details of work – people love face-to-face contact and to feel involved.

Conducting surveys about their needs, or those of the community – what they think is lacking in regards to the safety of their building. We have found that this is a great way to obtain the engagement of residents. This can be through phone or face-to-face interviews and will go a long way towards ensuring that everything is on track whilst demonstrating a commitment to customer satisfaction.

It's good practice to tailor the messaging to the residents. Sometimes, limiting the amount of information can be better, particularly if you have elderly or less mobile residents. Informing them that premises may not be safe could increase their anxiety until the work is carried out.
Project Plan
A clearly outlined project plan will ultimately enable the project to stick within time frames, operate within the agreed budget, and ensure the least disruption to residents.
At any time, a site may have several contractors working alongside each other. A clearly communicated project timetable covering all contractors enables everyone on site to know who should be where, when and the appropriate access they need for designated areas.
A "schedule of works" is a key component of the project plan contributing to the safety of employees, contractors, and residents. All the parties need to know when live working is underway, enabling access to the property for a timely installation for the contractor and equally so that the resident is not left in limbo, waiting for works to complete.
Having consistent, clear communication for all stakeholders is part of the project plan and is critical to achieving key milestones and keeping to the budget. Having a Resident Liaison Officer and/or having a dedicated resident liaison team is a crucial link between yourselves, your landlord and the project team carrying out the works and are, for us, the unsung heroes of successful project delivery. 
Unhappy residents can cause long delays to the work you are having carried out, adding unnecessary cost and time to the original scope. By getting the residents and tenants involved early, you are only benefitting the process.
To Conclude
By following these four pillars, you can ensure that your staff and residents are not only aware but also educated regarding fire safety, making the journey to compliance much smoother. 
If you have any questions regarding your fire safety strategy, you can contact us here.