Fire Safety in the Public Sector – Why Frameworks are Essential for Procurement
Why are framework arrangements becoming more popular, especially within the public sector? In simple terms, they can represent a 'smarter' way of purchasing. In this blog, we explore what a framework is, the challenges and benefits, and how the model can work in practice using the NHS Shared Business Services as an example.
If you have limited resources, using a procurement framework can save significant time and money whilst servicing a local requirement and ensuring accountable decision-making when choosing the work. 
Companies that are on frameworks must go through a process to prove their accreditations, customer satisfaction and the ability to carry out the work so that the client has total peace of mind.
When you select a procurement framework, you're cutting out the high cost of running your own procurement exercise. You're also gaining peace of mind with access to procurement knowledge from a team of technical experts. 
Framework procurement services are carefully designed to enable smarter buying and make contract management easier for their members. 
What is a Framework Agreement?
In a nutshell, it is a highly advantageous, legally compliant public sector procurement tool:
"A 'framework agreement' is 'an agreement between one or more contracting authorities and one or more economic operators, the purpose of which is to establish the terms governing contracts to be awarded during a given period, in particular with regard to price and, where appropriate, the quantity envisaged." – Local Government Association.
What frameworks exist?
Once you, as the client, have selected your framework partner, you can set up an 'umbrella agreement'. This enables flexibility to refine requirements whilst retaining the benefits under the agreement, without requiring further lengthy full tendering exercises.
Some clients with framework agreements have achieved 10% year-on-year improvements in the time and cost of delivery. One positive consequence of a framework is that many fire safety providers, such as Harmony, view it as a long-term relationship with the community whereby we work with our clients to deliver sustained improvement. Harmony uses its Foundation as a vehicle for working within our client's community and encouraging our employees to volunteer – this is designed to help people, inspire new generations, foster our values, support communities and improve social mobility.
Harmony is part of the following frameworks:

Why do we Need Frameworks?
There are many reasons behind the use of frameworks. They
Provide long-horizon opportunities (best customers & best supplier).

Enable providers such as Harmony to prioritise those opportunities.

Provide time to understand and align with the client's business strategy and objectives.

Support understanding of the client's decision-making process.

Help suppliers match with clients of similar cultural fit.

Enable resource efficient-bid process planned and adequately resourced.

Allow time for creativity and innovation.

Require resources, time and effort to create good submissions.

Generate better returns on investment in processes, qualifications, capacity, and experience.

Are efficient for business development, developed pipeline, and workforce planning.

Support training, development and investment.

Enable buyers to be satisfied, not just meet the specification. Creativity in meeting the required service level agreement and quality.

Help buyers value suppliers going the extra mile where, in effect, "Points mean Prizes."
The Different Procurement Approaches
There are six different approaches to procuring services, and it is important to understand why a client would use one approach versus another:
Open Procedure
The Open procedure is a one-stage procurement process which covers exclusion grounds, selection criteria and award criteria. An Open procedure means that any organisation can respond to the advertised contract notice, request/download the procurement documents and submit a tender.
Restricted Procedure
The Restricted procedure is a two-stage process:
Stage One (Selection) – Suppliers are alerted to express an interest in a contract opportunity by obtaining and submitting a SelectionQuestionnaire (SQ); this will be used to establish their capability, experience and suitability. The purpose of the SQ is to select a shortlist of 5 (or more) suppliers which are likely to meet the tender requirements.

Stage Two (Award) – Shortlisted suppliers meeting the selection criteria are invited to tender. All tenders are evaluated in line with the methodology and award criteria set out in the tender documentation.
Competitive Dialogue
The competitive dialogue process is a multi-stage model with three broad stages: pre-competitive, competitive, and post-competitive dialogue. This model is most effective when the requirements are complex, the final solution is unclear, and there is a substantial opportunity for innovation to provide significant benefit to the outcomes.
Competitive negotiated procedure
This procedure lets you clarify bids with bidders after their submission of fully formed initial tenders. This procedure may be used:
for procuring services or goods that require adaptation or design inputs.

in cases of complex purchases, such as sophisticated products, intellectual services, major information and communication technology tools
Innovation Partnership
The Innovation Partnership Procedure aims to solve an existing problem, i.e. organisations not being able to purchase directly from the developer without further competition. This was because the original research and development contract was awarded without competition.
Design Contest
A Design Competition is defined as 'a procurement procedure for obtaining competitive tenders for services which are creative in nature and which require that part of the services to be carried as part of the tender to facilitate the evaluation of the tenders. Such services may include architecture, landscaping, engineering, urban design projects, urban and regional planning, fine arts, interior design, marketing, advertising and graphic designs.' (Source: www.procurementjourney.scot)
Let us explore further the benefits of the framework using the NHS Shared Business Services framework as an example.
NHS Shared Business Services
NHS SBS (Shared Business Services) was established in 2005 by the Department of Health and Social Care (DHSC) as a unique partnership with digital experts Sopra Steria.
Principal benefits:
Time: A fully compliant high-value tender will take 6-12 months to complete. A framework call-off enables a new contract in a matter of weeks.

Cost: The average Find a Tender Service (FTS) procedure costs £45,000, with most of that cost borne by the supplier.

Legal Compliance: The award of a contract enables legal compliance by following a fully compliant process under the Public Contracts Regulations 2015. A contracting authority has an approximate cost of £25,000 per tender process.
Framework Agreement – Relationship & Operational Model
The following diagram details the relationship and operational model for the framework agreement: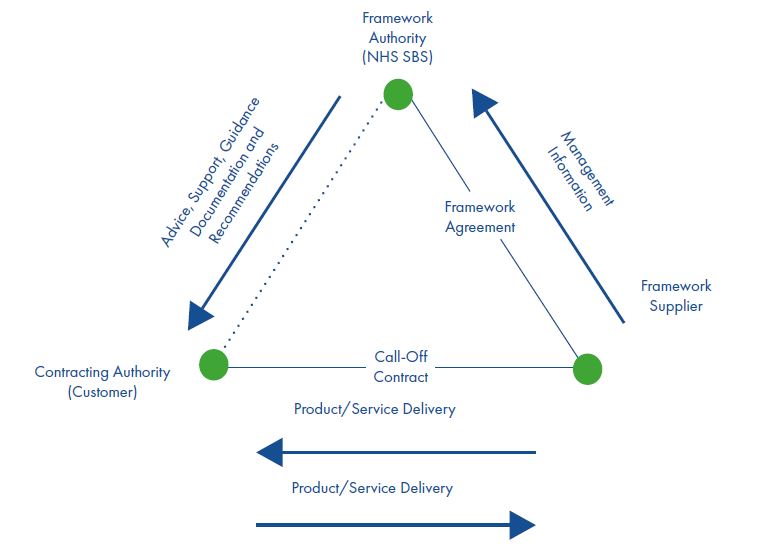 As detailed in the diagram, essentially, the relationship at the call-off stage is for the specific service requirements of the customer, with an agreement being put into place between the awarded supplier and the customer for these particular requirements.
The relationship between NHS SBS and the supplier relates to the overarching framework agreement, where management information will be shared.
The relationship between NHS SBS and the Contracting Authority, or the customer, is one where the NHS SBS category team provide the customers with advice, support, guidance documents, and recommendations.
What are the benefits of purchasing through a framework?
There are multiple advantages to be gained from using a framework. These include:
Delivery of a wide range of built environment and construction procurement projects.

Reduction in procurement timescales from months down to weeks with pre-agreed T&C's.

Fast, efficient, and easy to use.

Reduced procurement and transaction costs.

Save time and maximise your budget – demonstrating value for money.

Access economies of scale through increased buying power.

Ensure procurement compliance and mobilise your projects quickly.

Access to a supply chain that is rigorously assessed and continuously monitored.

Select suppliers based on geographical regions.

Measure progress towards desired outcomes with KPIs.

Ensure legal compliance with Public Contract Regulations 2015 and EU, UK and Scottish legislation.
Comply with the Public Services (Social Value) Act 2012.

Robust agreement from thorough professional due diligence.

Detailed and easy-to-use guides, support and templates.

Build long-term relationships.

Performance measurement – encourages continuous improvement.

Better social value and greater community wealth
To Conclude
Framework arrangements can represent a 'smarter' way of purchasing. Most organisations have limited resources, so using a procurement framework can save significant time and money whilst servicing a local requirement and ensuring accountable decision-making when choosing the work.
Companies that are on frameworks will have proven their accreditations, customer satisfaction and the ability to carry out the work so that you, as the customer, have total peace of mind.
The key benefit of being on a framework for the client is eliminating the high cost of running your own procurement exercise while gaining peace of mind through access to procurement knowledge from a team of technical experts. The result is smarter buying and contract management.