Why Quality Should be the Most Important Aspect of Your Fire Safety Strategy
It was a pleasure to speak at Healthcare Estates on the 4th of October in Manchester. This blog will explore some of the topics discussed in our session and focus on why quality should be the most important aspect of your fire safety strategy. 
So, what makes up quality? 
Whilst this is not an exhaustive list, we have compiled three key pillars that are essential to ensuring quality within your projects:
Budget

Choosing the right partner

Asset management
Budget
Effective Management
One of the most obvious answers when discussing quality versus budget is effective management of your available funding. However, it isn't always as easy as that. 
Considering the limited budget you see year-on-year, we need to ask, "how can we utilise this in the best possible way?" 
To get the most out of what you have, you have to start thinking about building long-term programs and strategies. The responsibility lies with the responsible person, and oftentimes, the trust will pass this title down to a chief executive, who may then pass it down to a Building Safety Manager or Estates Director. 
Whilst this may seem daunting if this title falls to you, this can also be an excellent opportunity. You are the one on-site who can see what is going well and what isn't. This allows you to create a strategy and go to the board with a solid case for more budget/next year's budget. 
Future Proofing Works over Short-Term Fixes
We often see a heightened desire to complete non-certified works to close actions as quickly as possible. As a result, you end up with non-approved repairs and non-certified works. Is this the most effective way of ensuring you get quality work and the most out of your budget?
If you complete works correctly, you can save money long-term and have more resources in the budget for future years, thus giving you an excellent value-for-money solution. 
Essentially, to maximise your budget, it dovetails with…
Choosing the right partner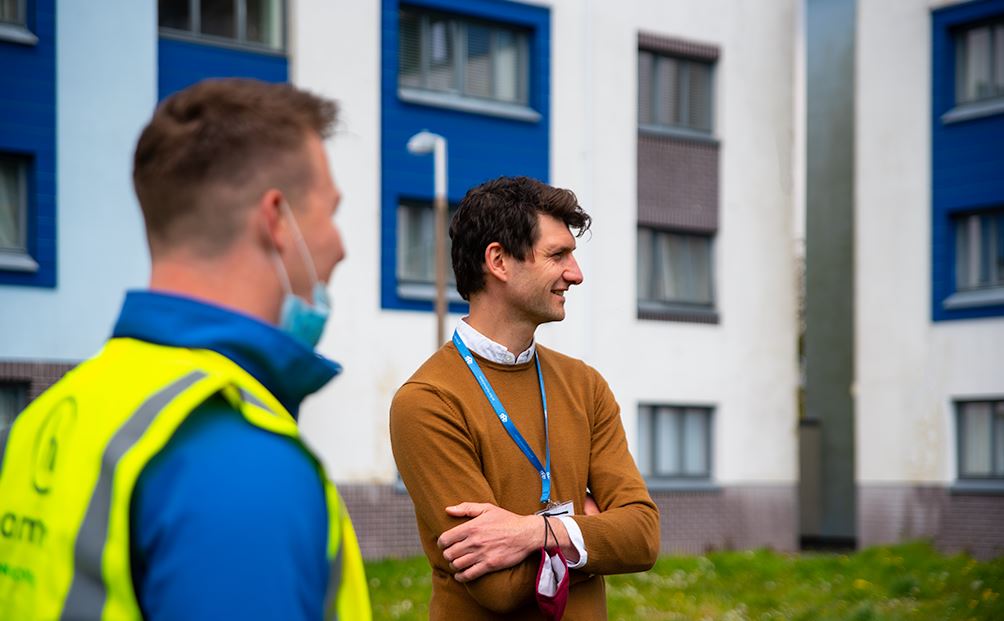 Choosing the right partner is crucial when taking on a large project or a project with several different fire safety elements, and there are various things you have to consider before making a decision.
Workforce
Does that organisation have an in-house workforce or labour? Is it able to be managed correctly?
We've seen it many times where main contractors may be utilising sub-contractors, and when something goes wrong, there is a severe communication barrier. You have to go through multiple levels of management within different organisations to get to the root of the problem, which can often hold up the program and put the project behind schedule. 
Accreditations
Accreditations are a stamp of approval from accrediting bodies. If a contractor is third-party accredited, you can move forward with the confidence that they have the skills and the knowledge to carry out works. 
Suppose you are using a main contractor who is utilising their in-house workforce. In that case, there's an extra onus on using the right materials, that they are working to the proper standards with products they can sign off under the accreditations they hold. 
Experience
Healthcare is a challenging sector, particularly in mental health, for example. Often you work in live environments, surrounded by staff and patients; patients who are vulnerable and need the proper care and sensitivity. 
This poses a lot of questions to either the consultant or trust responsible for awarding the works:
What experience does the organisation you are considering have?

What projects have they taken on?

What size projects have they completed?

If, for example, your project is a larger capital program, do they have the capabilities to complete it to a high standard?

What is their workmanship like?

Are they aware of any potential implications that may arise, and can they deal with them?
Supply Chain
It's not only in-house capabilities that you need to consider but, additionally, your potential contractor's supply chain. 
Let's look at a scenario: You have chosen a contractor to carry out your project. However, it involves having to relocate a ward whilst works take place. You, as the trust, would like to get back into your ward as fast as possible. This relies heavily not only on the contractor consistently delivering but also on their supply chain and lead times. 
If their supply chain is hit with delays or has a price increase that they are not ready for, it can cause severe delays, which essentially affects not only the hospital as a whole but also the quality of the project. 
It's also important to look at the following:
Do they have the correct test data for the products that they are using?

Are they working with products that they can compliantly sign off

Have they future-proofed pricing options so that the client is not affected by price increases and, thus, the project is delayed?

Has the manufacturer sourced the products correctly?

Have the manufacturer sourced them sustainably?
Your contractor should manage their supply chain from start to finish so that they can give you and your trust a project that is delivered to the highest quality. 
What else should you look for?
Someone who takes responsibility

Partners who are sector specialists

Someone who has a strong stance on compliant solutions

Pre-site surveys – a detailed Pre-Construction Process
Here at Harmony, we have our own Pre-Construction process, which is the most detailed part of the project itself. It ensures that once Harmony arrives on-site, there is minimal disruption, as everybody knows precisely what they are supposed to be doing. 

Asset Management and Compliance
When you are carrying out essential works such as fire safety and spending so much time and money, it is vital that you have an audit trail. 
An effective audit trail that captures relevant data is something invaluable. It is something you can refer to for years to come, something that you can rely on and possibly something that can impact future projects depending on the level of work carried out. 
It also provides proof of concept as to the works. You can see very clearly what works have been completed versus what works your contractor has claimed to have completed. Have they been carrying out the relevant checks? Have they been storing the information that you may need?
This will vary from project to project; therefore, it is crucial to have a system to manage this. For example, Harmony currently uses a system with an open API which allows us to seamlessly integrate with the system that a trust may have in place, thus ensuring no data is lost between parties. 
If you would like to watch our speech, you can view the full video on our YouTube: https://www.youtube.com/watch?v=jItxKvzS_No